Demand generation, that Marketinian concept that we explained in a previous post, is necessary for any company, brand, product or service. Knowing how to be more interesting to our potential customer and make them interested in our product is really important. That's why, as we want you to get the most out of your demand generation techniques, we bring you 4 tips to accelerate it (in this 2022).
Before we start…
Before starting with the tips, it is necessary to be clear about the two sources of leads you will have and that they need to be aligned.
Traditional sources: these sources are those obtained through professional relationships (public relations, word of mouth, events, etc.).
Digital sourcing: achieved through digital marketing tactics (inbound y outbound marketing, account based marketing… )
Once we have identified where our leads will come from, we must be aware that these sources must be in tune with each other for demand generation to work optimally.
Let´s get started: tips to accelerate demand generation
1. Build a good brand identity
If you want your product or service to generate interest, appeal and seduce your audience, you need to sharpen your brand identity. Having a good, clear brand identity that is well associated with your values is crucial for generating quick and effective interest in your potential customers.
2. Brand awareness and presence all the way
Once you have a well-defined brand identity, it's time to get your brand's online presence up and running. Blogs are a great way to raise awareness for your company and create interesting content for your audience. It is important to upload relevant and quality content as this will be targeted to your leads.
Social media and social media presence can also make a difference. LinkedIn is a great platform for giving your company a voice and showing a little bit more about what it offers, its tone, its way of addressing its target…
You can also write content for other industry blogs that are relevant and related to your topic. This will not only get you visible on pages of interest, but it will also improve the positioning of your website.
3. LinkedIn advertising
As we have just mentioned, LinkedIn is a great platform to give visibility to your brand, and not only organically. Fortunately for your brand, LinkedIn advertising (although somewhat costly) is very effective and achieves very advantageous statistics.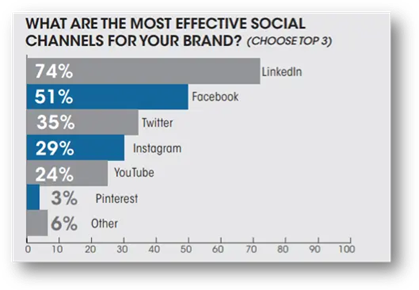 4. Interactive content, a MUST
This type of content will allow your brand to interact (as the name suggests) with your community. This will not only increase your engagement, but also improve the relationship between brand and consumer. Your brand will be perceived as a brand that is close to you. In addition, depending on the type of interactive content you upload, you can get useful data to classify your leads.
As you can see there are plenty of ways for your brand to reach as many leads as possible, positioning yourself in the best possible way in the mind of your consumer.
Read you soon!