Google, the world's most popular search engine that arrived in 1998 to change all our lives. Before exploring its search bar, conducting research, or finding important information was a tough task, but it's clear that it's easy to get used to the good things, and since its launch, all it has done is increase its number of users, as well as the offerings of its products and services.
Today, Google holds over 92% of the market share and is used to find information on a wide range of topics, including news, weather, sports, entertainment, business, education, health, products and services, price comparisons, making purchases, booking trips, and much more.
According to 2022 data, Google processes approximately 63,000 search queries per second and over 5.6 billion searches per day. We could say, then, that Google is a powerful tool that helps people find information of interest, and if someone is looking for you or your company, would they find you easily?
More than just a search engine
Over time, in addition to being a search engine, Google also offers a variety of other products and services, including Gmail, Google Maps, My Business Google Docs, Google Sheets, Google Slides, Google Drive, Google Photos, Google Calendar, Google Play Store, Google Chrome, and Google Android. These products and services are used by millions of people worldwide.
In this post, we want to talk to you about a particularly useful tool that will help your company or business increase its visibility to appear as a search result when someone looks for you on Google or Google Maps, and that is Google My Business.
What is Google My Business?
Google My Business is a free tool from Google that allows you to create and manage a business profile on Google Maps, increasing the chances of appearing in Google search results. With Google My Business, you can control how your business appears online, including your contact information, hours, photos, and reviews.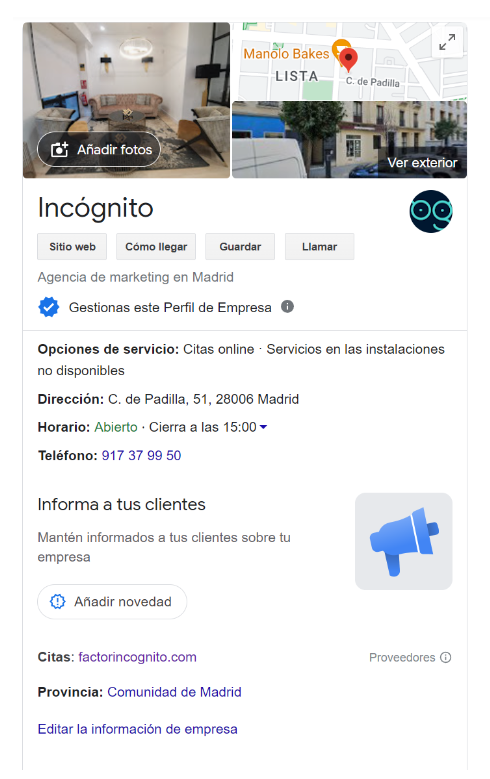 What can you do with Google My Business?
Below, we'll explain how to create a profile, but it's important to understand all the things you can do to improve the positioning of your company:
Add information about your company, such as name, address, phone number, website, business hours, photos, and reviews.
Manage your customer reviews and respond to them.
Add photos of your company, products, and services.
Create posts to promote your company and your products or services.
Create events and promotions.
Get statistics about visits to your profile.
What are the benefits of having a Google My Business profile for your company?
Improve your online visibility: When customers search for businesses like yours on Google, your GMB profile can appear in search results, both on the search results page and on Google Maps. This can help attract more potential customers.
Build trust and credibility: A complete and updated GMB profile can help build trust and credibility. When customers can easily find the information they need about your company, such as your location, hours, and services, they are more likely to trust you and choose your business.
Increase sales: A well-managed GMB profile can help increase sales. When customers can see photos and read reviews from other customers about your product or service, they are more likely to feel confident in making a purchase from you.
How to create a Google My Business profile?
To create a Google My Business profile, follow these steps:
Go to the Google My Business page and click on the "Create an account" button.
Enter your business information, such as name, address, phone number, and website.
Add photos of your business or physical space, such as the storefront, interior, and products or services you offer.
Complete your business profile by adding information about your hours, reviews, and services.
Tips to increase visibility on Google My Business:
Claim and verify your profile:
The first thing you should do is claim and verify your Google My Business profile. This ensures that you have control over the information that appears in your listing and allows you to interact with customers through reviews and questions.
Complete and accurate information:
Fill out all fields of your profile with detailed and accurate information about your business, including name, address, phone number, opening hours, website, and business category. This will help Google better understand your company and display it to relevant users.
Relevant category:
Select the most appropriate business category for your company. Make sure it is relevant and clearly reflects the products or services you offer.
High-quality images:
Add high-quality photos of your business, products, or services. Images can significantly impact how your business is perceived and can attract more customers.
Request reviews and respond to them:
Reviews are an important part of your Google My Business profile. Encourage satisfied customers to leave positive reviews and respond professionally to all reviews, both positive and negative.
Regular posts:
Use the Google My Business posts feature to share updates about your business, special promotions, upcoming events, or any relevant news. This will keep your profile updated and attract potential customers.
Geolocation:
Ensure that the geolocation of your business is correctly set up on Google Maps. This will help customers find your business accurately.
Local keyword optimization:
Use relevant keywords in your business description and posts to improve visibility in local searches.
Synchronize with your website:
Ensure that the information on your Google My Business profile matches what you have on your website, including the name, address, and phone number (NAP). This helps build trust and consistency for search engines.
Statistics and tracking:
Use the statistics tools provided by Google My Business to understand how users interact with your profile. This will help you adjust and improvements to your strategy.
And that's it for our tips on Google My Business. See you in a future Mental Note!