Setting a marketing and communication project in midst the worst economic crisis of the last decades seems a challenge just for the braves and optimistics. Time will tell if we are in Incognito. You never choose a context like this. It comes without conditions and we have to fit to it. Incognito has come to birth with that spirit and will to succeed. We are a digital marketing and communication agency made up of experienced people who just know how to deal with the market with the thrill of the new kids in town and the same eagerness to change things of nonconformists.
20 years of experience
For the last 20 years we have seen everything. We speed up into the business along with the Dotcom Bubble and lived that hitting brakes momento after that prosperity, technological and full of excess period and much more innovation that some newcomers think.
We run all the way through the recovery and joy phases after the burst, when social networks aroused changing forever our industry. We found there were more ways to connect with the people but also we discover that crisis can appear in seconds and devastate the reputation of a project in the blink of an eye.
We reinvented ourselves once more after the hard times that the financial and real-state crisis bring to us, getting ready for a digital world that in 2020 has been, again, shaked violently disrupting all the forecasts and accelerating the transformation of all kind of business.
What we have made in marketing for the last two decades has been, at the end, adapting to a context to keep on offering solutions from communication.
"We have been adapting to a context to keep on offering solutions from communication"
Context Communication
That context is what define us and describes our business vision. There is no bad or Good times. There are scenarios, challenging situations that force us to open new roads to always move ahead. We do not want to return to the Old Normal the same as we do not want to keep on using old marketing recipes. We want to make Context Communication, which means to analize what surrounds to us to develop strategies that lead our clients to achieve their goals leveraging the context: their publics, their resources, their channels, their languages and their metrics.
"We do not want to carry out old marketing recipes. We want to make Context Communication"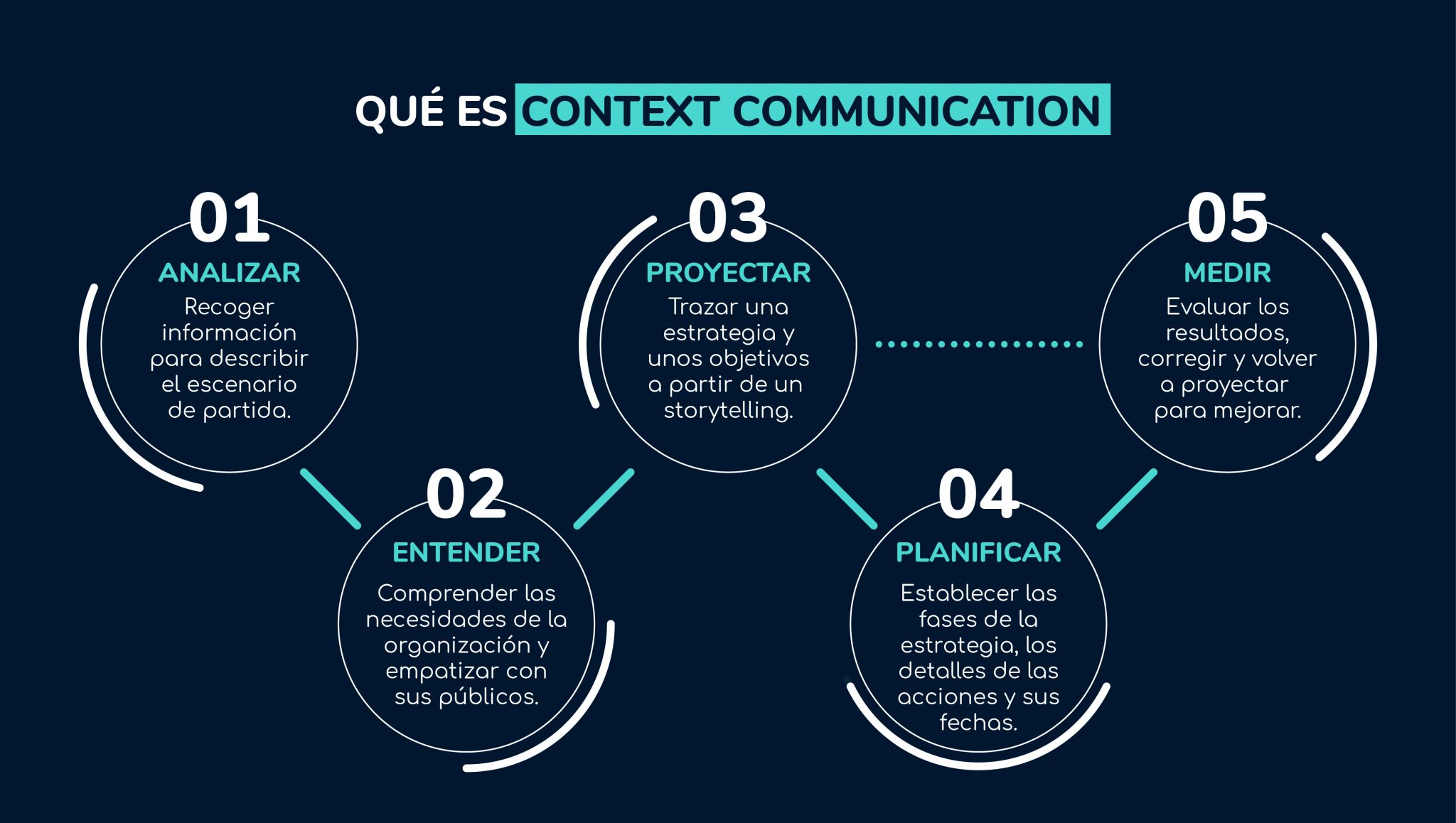 Marketing agencies, communication consultancies, and digital strategy companies are reacting with outdated proposals that are trying to save their budget instead of providing a return to their clients. Messages are repeating. Creativities are all the same. The money is being wasted and nobody seems to understand the context.
As a communication and digital marketing agency, we know how to move through the short term to bring results and long-lasting relationships. From Incógnito we are going to provide transparency, commitment, trust, and change. And change over all that. The world is just not the same it was and agencies have been too much time keeping static.
So what do we understand as Context Communication?
Context Communication is to realize that changes create new contexts. By getting to know the context we can plan marketing in the long, medium, and long term to reach our objectives.
Context Communication is to apply scene analysis to fit messages to every circumstance, so we can establish more efficient communication channels.
Context Communication is to work at the same level with all the company areas to transform communication and digital marketing into change-adjustment tools.
Our principles
Never before the years of experience in marketing and communication were such an added value. We are part of a generation for whom technology is not an obstacle anymore. We have integrated it seamless to our procedures and we see it as a facilitator to our objectives. No matter the future advances to come; we shall integrate them in our procedures. What really differenciate us from the rest is the roads we drove before and know how to distinguish what we do like from what we do not.
We do not want to be ruled, but to bring our knowledge as consultants being transparent and true.
We do not want to isolet marketing from communication as if they were watertight compartments, but to integrate tools and mechanisms from both worlds to offer global solutions.
We do not want to hide behind intangibles, but to give fresh ideas that bring quantifiable results.
We do not want to measure just success, but also failures.
We do not want to embrace conventional speeches about corporate communication, reputation and company purpose but to help to evolve not only this sector but also those organizations who should ask for our services from brand new points of view. Even if those hurt.
We want to do all that from the conviction to enjoy it, although we know is business. We dream with creating a space where workmates, partners and clients feel comfortable, respected and priviledged.
By now the truth is just like this. The future is Incognito.