Over the last few years we have observed a trend from which almost no company or association is spared: Rebranding. For this reason, at Incógnito we wanted to analyse some of the most successful cases of rebranding in recent years and define some small tips when you want to change what doesn't work or what does, but in a better way.
But what exactly is rebranding? And why is it so important these days?
It is one of the most complicated decisions a company can face. It consists of renewing the brand by partially or totally changing elements that allow us to identify it (image, logo, typography, designs, culture…). Whether it is to change a mere image, a concept or to design a complete new image strategy, rebranding takes shape.
Let's go to the most successful cases!
Apple, an apple that has been around for a long time
The Big Apple, and we're not talking about New York. This popular computer company was founded in 1976 and in its first year already faced the first rebranding with its original logo.
This first black and white illustration of Issac Newton reading a book under an apple tree did not convince the founders and was quickly replaced within a year by the bitten apple we all know. The main feature of this rebranding over the years was the huge range of colours of which the logo was composed and the different choices it was subjected to.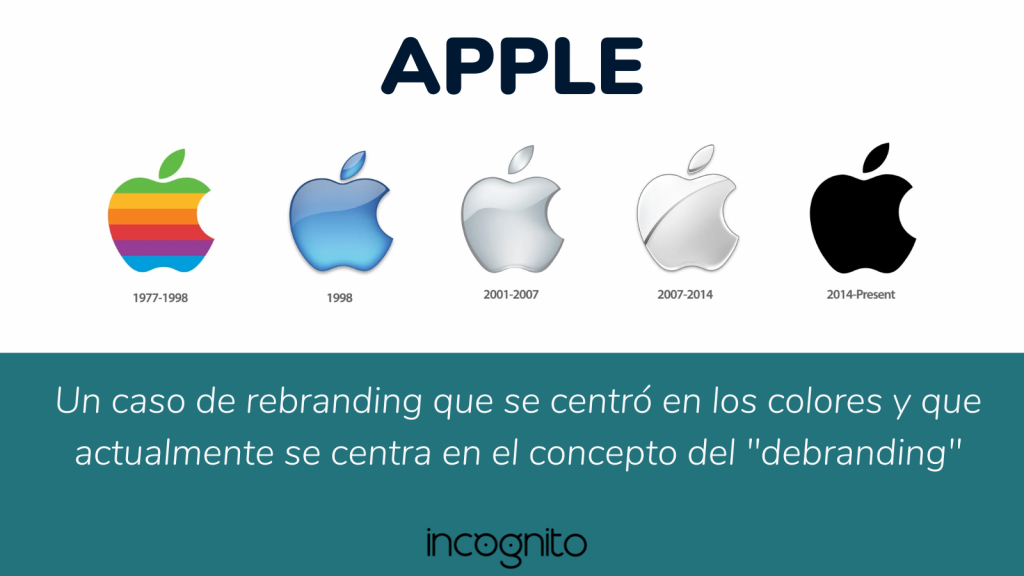 Initially, Apple was represented by the multi-coloured apple, a range that could later be represented on each of its computers to suit each user's taste. Over the years, it was decided to make this symbol of technology metallic and to leave colour in the background. It was the first step in "simplifying" the logo.
Establishing a single official colour on a number of its computers inspired Steve Jobs to make the main logo a metallic blue from 1998 to 2002, after which a grey was eventually defined that has become the logo we all know today.
Although we cannot define it as a "debranding" to the greatest extent, it is a successful case of rebranding in which the simplicity of few colours and a clean logo, without details or added visual elements, currently predominates in many of the brands we are going to talk about today.
McDonald's, "I`m love in green"
In the case of this fast food chain, we will not focus on the remarkable change that has been made over the years by eliminating the typography of the official logo but on the colour that has been associated with almost all funds of which it is accompanied in most of the cities in Europe where it is currently located.
And you're probably thinking to yourself, Red, right?
Let's travel back in time. In 1961, Stanley Meston created the iconic golden arches logo with a diagonal line running through its arches to represent the original premises. But in 1968 it was decided to create what is today one of the most recognisable logos in the world. The big yellow M for McDonald's. It was decided to remove the line and shorten the arches to give it that characteristic shape. From then on, two things predominated: the big yellow letter M and a huge red background on which it was positioned.
Although modifications have been made to the logo, adding or removing the name, simplifying the shape and applying some debranding changes that are still with us today, the most significant change is in the colour.
McDonald's decided to change the red background for a green one in most of its establishments and advertising elements on the old continent in response to a problem associated with the nutritional quality of its food. This change was prompted by one of the WHO's main objectives, to reduce childhood obesity.
With this, the brand wants to transmit more naturalness and balance. A more ecological and healthy message together with a change of values that they intend to transmit with their change of colour scheme.
Have you noticed this change in the establishments? What do you think of this rebranding success story?
Telefónica, one logo to rule them all
Last year we learned about one of the major changes the Spanish telecommunications company made to its rebranding.
Not only was the typography changed, simplifying and lightening the text, but also a new logo was defined. All this with the heritage of its first models in 1984 based on several dots forming a T (the original shape of the telephones). This change is accompanied by the choice of a single blue colour to express a message of modernity and technology.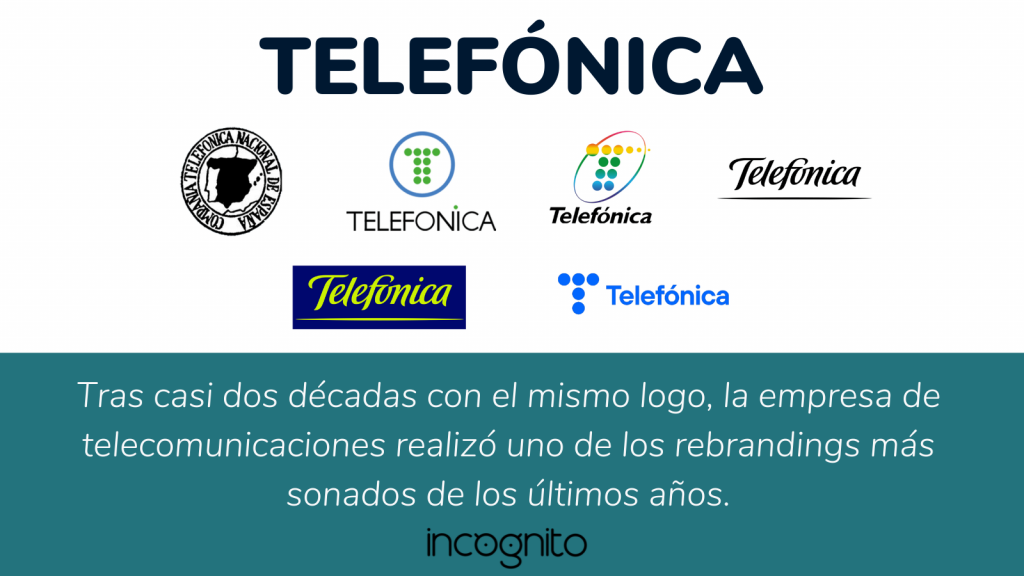 This rebranding concept is based on a general change of the brand, associating each of the points of the new T with a very specific message: Transformation, Technology, Talent and Transcendence.
So we see that this logo change comes with a much deeper strategy in terms of the new message the company wants to give. It is not only a debranding of the initial logo, it is a moment of change and transformation into something new. All of this is a tribute to the past and with which they want to position themselves in the international telecommunications field. Undoubtedly, a huge success story for the telecommunications company.
A T to rule them all.
Instagram, elegance lies in simplicity
Now we move on to the world of social media. In this case, we wanted to analyse the one that has undergone the most changes since its arrival to society, Instagram. Undoubtedly one of the most interesting rebranding success stories of recent years.
Interestingly, it is one of the most visual networks of the moment and the one that defined a new model of interaction between users by basing its content on images. It is curious that the social network of the image by excellence has been one of the most face-lifts it has had in recent years with its logo.
The key to this change? Simplicity.
Originally, Instagram had a logo with lots of details: a somewhat retro camera, lots of colours… Today, a range of pink and purple colours with a very simplified logo in the shape of this original camera.
It was a change that was widely criticised by its community. But what was most striking about this change was that it was intended to give the app a new focus in which the user would be reinforced as the protagonist of the activity on the social network. Something that didn't work at first, and which Instagram justified in a statement.
A somewhat stormy start that led to a resounding success that many brands took notice of. The success lay in simplifying logos and making any brand recognisable with simple lines and a limited range of colours.
Rebranding, as we have seen, is not just a change of image. It is a paradigm shift for the company through a modification of the visual aspects of its logo, the quintessential symbol of its representation to the world. Do you think we missed any more remarkable rebranding success stories?
If you liked it, see you soon in a new mental note.