In this new "Nota Mental" post (Incógnito's blog), we are joined by some of the main communication managers in the current ecosystem to tell us the keys to choosing a communication agency.

Proactivity, KPI's, flexibility… These are just some of the terms they have chosen to define what they consider most important when choosing a communication agency.
They are experts in their field, communication. And so are we, why deny it (after all, we make a living at it). We look at certain elements that they share, although they may be defined by different terms. Confidence in the team behind it, planning, courage, leadership or connection.
At this moment in time, every detail counts and in this post we discover many of them. To be more exact, three of each.
Let's get started!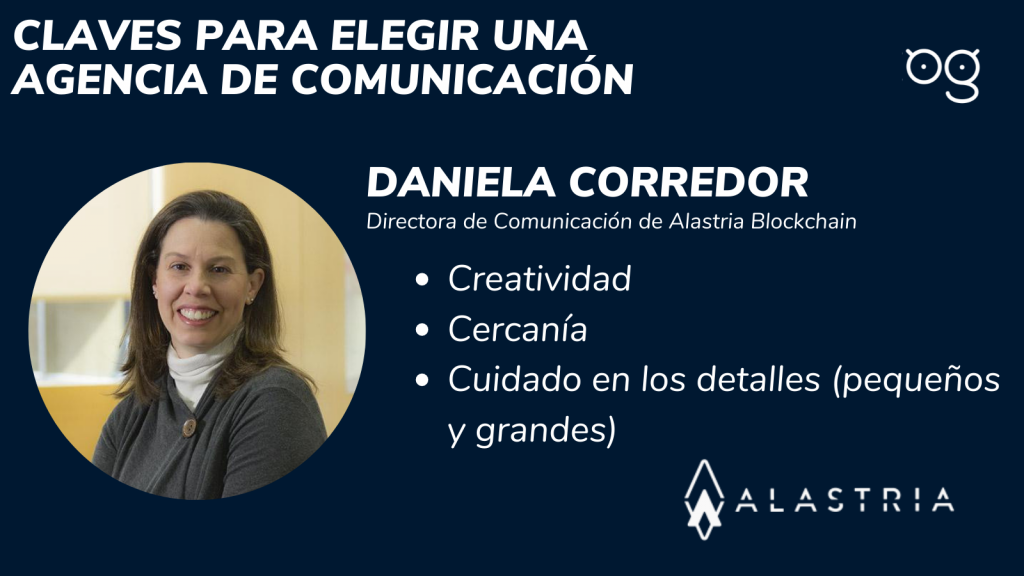 Daniela Corredor, Director of Communications at Alastria Blockchain
Creativity: I highly value the presentation of new ideas, fresh and different ideas, not only in the how but also in the what. I am always motivated to find new approaches that surprise me, always thinking about business and communication strategies.
Closeness: The agency you work with is a fellow traveller, you have to share the spirit and the way of working. I value feeling close to the team I work with, and above all the involvement of the agency's management on a day-to-day basis.
Attention to detail (small and large): Proposals and deliverables need to have extreme care in writing and presentation; perceive that each and every document we exchange is done with 'care'. The care with which they do things shows the importance they place on us as customers.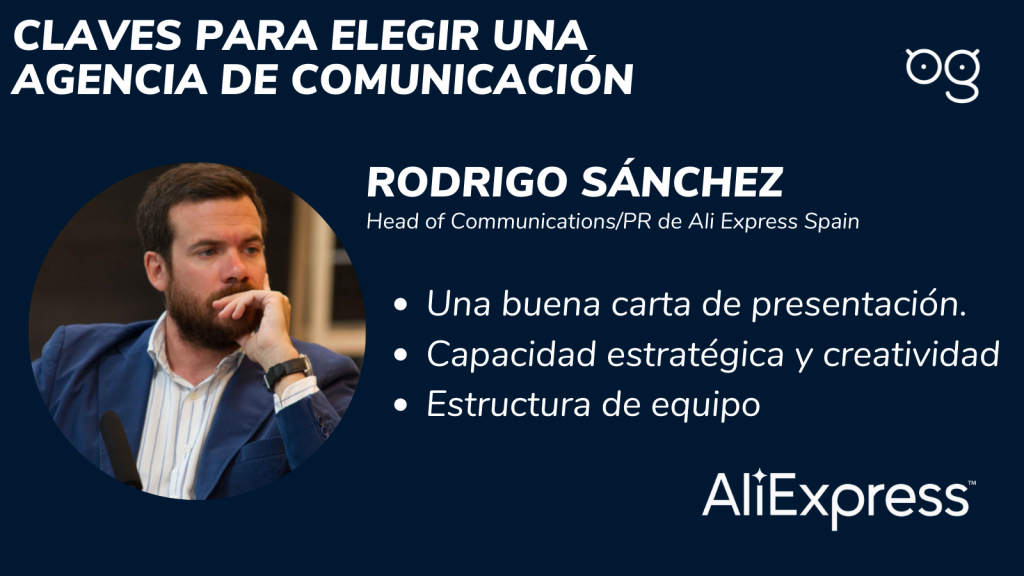 Rodrigo Sánchez, Responsable de Comunicación/PR de Ali Express España
A good cover letter: In a briefing meeting, you can see those first details that speak (good or bad) about an agency. Meeting an agency that asks, questions, insists until things are clear, is a good first sign. The competition always starts at this early stage and you want to see boldness, leadership and strategic advice or creativity.
Strategic capability and creativity: These are probably two of the key aspects that all of us who run agency competitions pay attention to and value. A proposal that is excessively conceptual or philosophical, that does not contain a tactical approach and that does not make clear how the agency plans to manage the client's day-to-day work, what processes, equipment and dynamics it plans to use, may also be a proposal that does not come to fruition.
Team structure: This is a more professional part based on the experience and background of each of the members but also the more human and personal aspect. The impression they produce through certain intangible aspects that are difficult to reflect in a valuation excel but have a clear influence on the psyche of the people who are going to make the final decision.
Flexibility: Flexibility of resources and the ability to understand well how business now moves, new channels and influence centres. It is essential that all these resources are not confined to a media office and that they keep an eye on the street level conversation. They must be able to transfer this activity and the need to establish new communication to the company's established formats.
Carrying out an assessment of the company's needs:The aim is to prepare a proposal that really understands what the company needs and wants and what the sector demands in order to position the company in a way that is honest and relevant to its target audiences. Beyond the company's pure service, it is about understanding concepts such as sustainability, efficiency, respect for people… All concepts that go beyond the business itself and which bring the company closer to society.
Be clear about the roadmap for the coming years: In recent years, the way we communicate and connect with the public has changed. It is important to draw up a roadmap for the next 10 years: to define what the company should be like, its communication, how to approach its customers and even attract new customers, and to project its performance in society.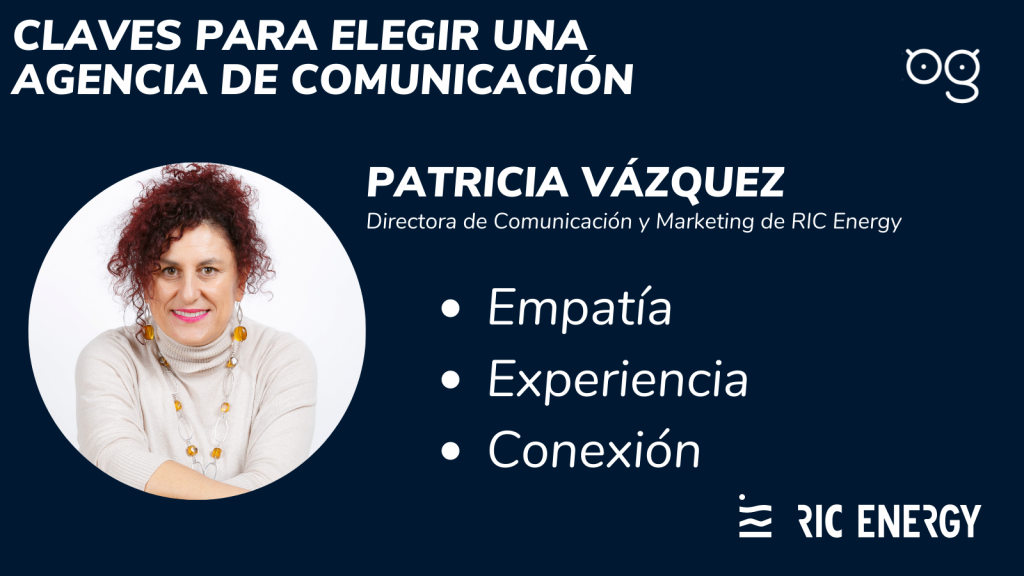 Patricia Vázquez, Communications and Marketing Manager of RIC Energy
Empathy: Ability to understand the client and their circumstances.
Experience: In addition to capacity for innovation and in the presentation of disruptive proposals.
Connection: Both with the company's values and purpose.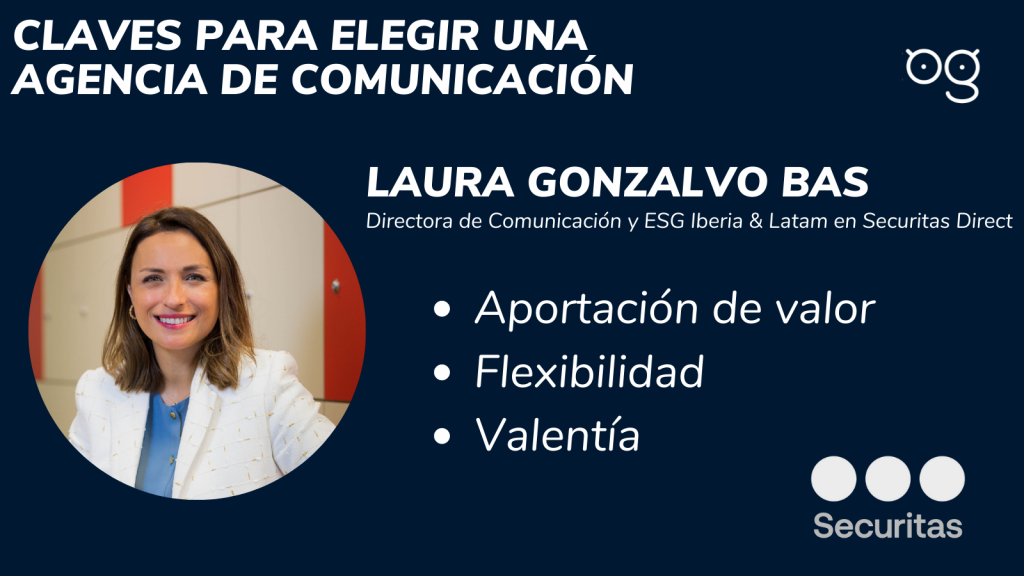 Laura Gonzalvo Bas, Director of Communications and ESG Iberia & Latam at Securitas Direct
Value contribution: If we outsource a project/function it is because we do not have the knowledge internally, so I always expect the agency to contribute and add value.
Flexibility: A key concept to adapt to changing needs and circumstances.
Courage: And not only when it comes to contributing new ideas, but also when it comes to daring to go against the brand (obviously with arguments).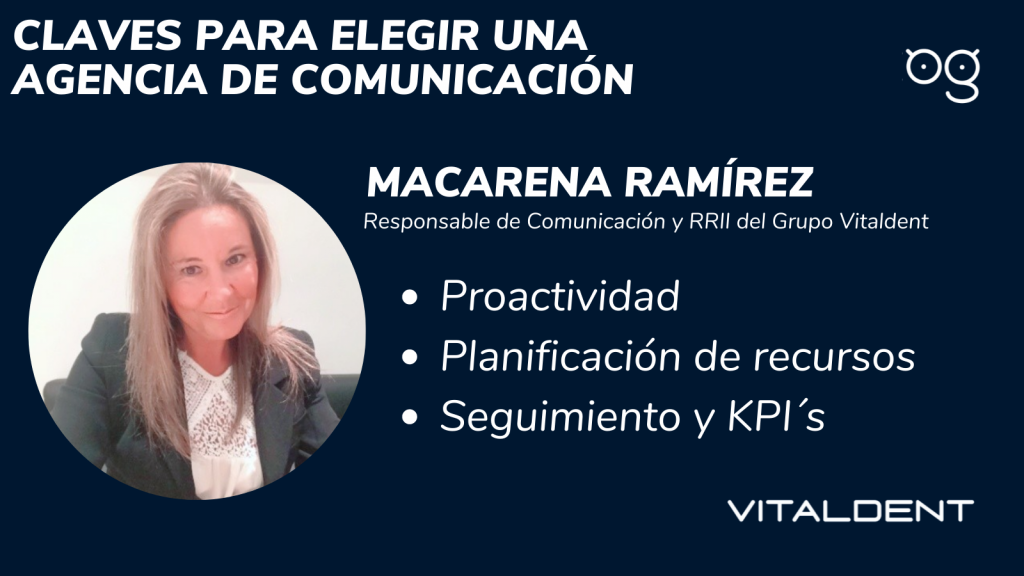 Macarena Ramírez, Head of Communication and IR of the Vitaldent Group.
Proactivity: It is very important that they contribute creativity and not only with their advice on how to approach the questions or search for solutions and on what and how to communicate. This proactivity must also materialise in its ability to anticipate the risks and opportunities that the global and sectoral context may bring.
Resource planning: Agencies are often the only team available to communication managers. It is therefore necessary that your proposals for collaboration with companies are correctly sized in terms of resources.
Monitoring and KPI's: when defining the keys to choosing a communication agency, I cannot leave out the fact of establishing a system of KPI's that materialises and gives value to the work of the communication area as a basic and strategic pillar of the companies. One of the most valuable intangible assets of a company is its reputation, and reputation is not always easy to measure or demonstrate. The KPis and evaluation systems allow us to have a snapshot of the state of affairs and to establish corrective measures.
We see with these statements key elements such as experience, the ability to provide flexibility, a clear strategy of what the company really needs and several other factors that are always important when choosing an agency. Many thanks to all our communication experts for taking part in these interviews and giving us their keys to choosing a communication agency.
See you soon in a new mental note!