It was 2010 and we were just learning how to use the social networks that were around at the time when suddenly Pinterest arrived. A social network that bet 100% on images and invited us to create our own image board to gather inspiration, desires, goals, etc. What we often refer to today as the vision board.
Since then, we have been witnesses and users of an infinite number of social networks, their updates, functionalities and their evolution to become what they are today: search engines (a la Google), storefronts, media, advertising media and monetization platforms, among many other functions.
Advertising on social networks is the order of the day. There is no marketing plan that does not include a line item for ads on Instagram, Facebook or TikTok, but very rarely, in my opinion, Pinterest is considered as a social network to invest in, underestimating its potential in sectors such as tourism, fashion, gastronomy or lifestyle.
Advertising investment in social networks
According to the OBS report: Social Networks, current status and trends 2023, the investment in social networks reaches a 33.9% of total digital ad spending and is expected to account for 33.9% of total digital ad spend by 2024, global investment will exceed $300 billion, which translates to 33% more than in 2022.
Meta ranks first among the platforms with the highest advertising investment, according to the report, has about 45% market share, and overall, it is estimated that 17% of e-commerce purchases are made through the main social networks.
Advantages of advertising on Pinterest
Advertising your brand on Pinterest Ads offers numerous advantages:
You can create an interactive product catalog.
Boost quality traffic to your website.
Improve the SEO of your website.
Increase visibility and expand international reach.
Generate leads and conversions.
And if that wasn't enough, just before the summer, Pinterest Ads debuted two new features:
1. Travel catalog
Since its inception, Pinterest has been a very useful social network for travel and tourism brands. That's why its new advertising solution is focused on this sector. With this feature, travel brands can upload their products and the platform converts them into a dynamic pin by adding purchase option, information, prices, images, etc.
According to Pinterest data, "retailers who uploaded their catalogs and tagged their products saw a nearly 30% increase in attributed purchases."
"Retailers that uploaded their catalogs and labeled their products noted a nearly 30% increase in attributed purchases."
2. Premiere Spotlight
This solution was designed to enable brands to have a greater impact and reach large-scale audiences at the most important moments.
Premiere Spotlight makes premium placements available to advertisers for their ads for a limited time. In this way, they can promote high-visibility campaigns among users. Some of the options offered are:
Position video ads in priority locations.
Advertisements occupying 50% of the screen of a mobile device.
Occupy the Pinterest feed for a specified booking period.
Successful campaigns
As they say, seeing is believing, and if you are one of those, here are some of the best successful campaigns that have been carried out on Pinterest.
Lipsticks Herrera Beauty, Good Girl Maxi Glaze by Carolina Herrera
During the months of August and September, Carolina Herrera carried out a launch campaign to publicize the novelties of its Herrera Beauty, Good Girl Maxi Glaze lipsticks. It highlighted its features in a very visual way, but the interesting thing is that it did so using the new Premiere Spotlight ad format, thus becoming thefirst brand in Spain to bet on this Pinterest feature.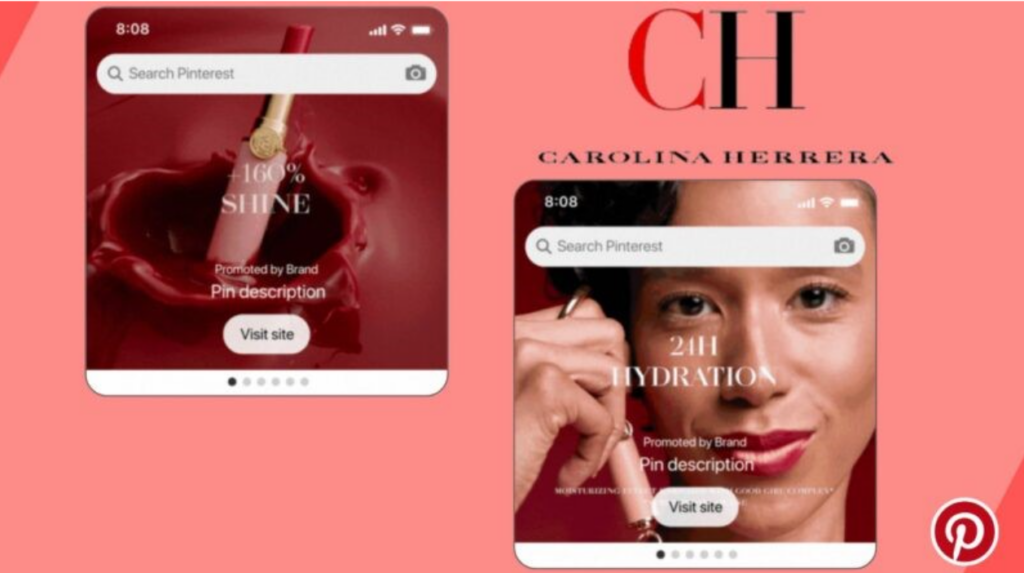 e.l.f. Cosmetics
This brand wanted to connect front and center with Millennials and Generation Z, how did it do that? It was located on the Pinterest search page using the new Premiere Spotlight format.
For the launch of the new Lash 'N Roll mascara, they bet on the platform solution and positioned a video that took up approximately 50% of the mobile screen in the search section.
According to campaign data, "the campaign recorded a video view rate 13% higher than the Media Rating Council's typical benchmark for Generation Z consumers."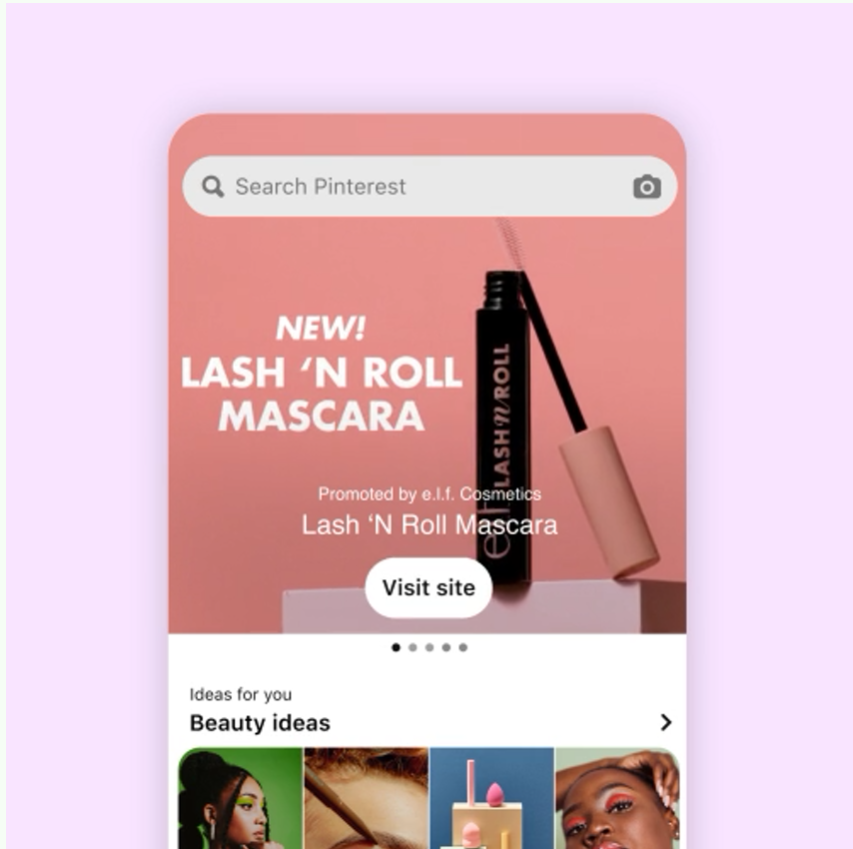 TUI
Germany's largest tour operator managed to engage Pinterest users, directly on the source of inspiration within the platform, while they were searching for trips, destinations, activities, etc.
Their goal was to drive quality traffic and increase bookings to their website. To do so, it took advantage of Pinterest's new format and launched its campaign with Travel Catalog.
In this way, when users found the perfect room, they could book it directly, achieving quality leads and bookings as conversion.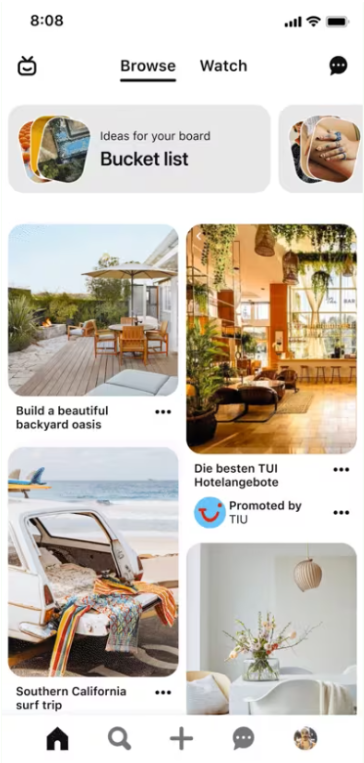 After seeing, now do you think, would you dare to include Pinterest in your social media investment strategy? I hope so, because I personally love it.
See you in a future Mental Note!